RE: Naming is indeed hard
@anonymous234 said in Naming is indeed hard:
@calmh said in Naming is indeed hard:

Yes, literal function-name dot dot dot as documentation for each function. To satisfy the rules.

That's the problem with setting rules that can't be automatically enforced.
Still better than GhostDoc. At least you can automatically find the problematic comments with a simple regex. Ghostdoc will spit something like this as soon as you hit three slashes: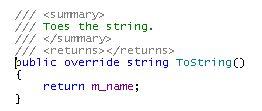 Now, it's useful sometimes - occasionally the boilerplate will actually say all there is to say, and the newer versions will actually treat things like constructors, interface implementations, Equals overrides* and so on as they should be treated, with the standardized/copied comments. But once in a while that's where the entire documenting effort will end, and while there is an option to add an autogeneratedoc tag to all such comments, it's not enabled by default.
---
*Just the overrides, though. If you follow the usual pattern of delegating Equals(object) to Equals(Widget), then it'll catch the former and fill in the standard Determines whether the specified Object is equal to the current Object., but the latter will end up with Equalses the widget.
posted in Side Bar WTF